Happy holidays to everyone here from Karin's Florist! We hope everyone enjoyed time with their families this Thanksgiving. What we're you thankful for this year? As the fall season continues, we wanted to take a chance to look back at some of the wonderful things that have been happening at Karin's.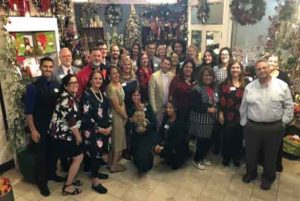 We started the fall season celebrating our 11th Annual Holiday Open House Event this past November 7th. We had a wonderful turn out this year and would like to thank everyone that came out during that evening. We had the pleasure of hosting Bazins on Church and 2941 Restaurant as they provided us with wonderful refreshments from their restaurants. While everyone was enjoying the wonderful refreshments and new holiday items throughout the store, we also had the pleasure of providing delicious wines & champagne decor, centerpiece, gift ideas, prizes and much more!
On November 11, we offered our last class of the year, taught by David Shover. The class provided knowledge on how to create that perfect holiday centerpiece. Using an assortment of flowers to help adorn any table, the class project was to create a beautiful horizontal centerpiece featuring fresh cut flowers, dried material and foliage. Want to be notified about our classes next year? Email us at David@KarinsFlorist.com to be notified about all our wonderful classes to come.
Did you know the new Karin's Florist holiday brochure is out!? We are beyond delighted to help spread joy with this year's holiday arrangements. Let us help bring awe to the venue for your holiday party or impress your guests at your dining table. We can even assist you in giving the perfect professional gift or sending something special to a loved one. Remember, the holidays are a time for celebrating, for remembering and for reveling in the beauty of the season!