Karin's Florist Celebrates 66 Years of Flowers Worth Remembering
Our History
Karin's Florist was established on October 26, 1956, at 7 Corners Shopping Center, by Bill Dukas and his father-in-law, George Raptis. It was one of the original stores in 7 Corners Mall, which was one of the first regional shopping malls in the U.S.  Named after Bill's first born child and George's first grandchild, the business opened with only four employees, George & Mary Raptis, Bill Dukas and one driver.  Karin's continued to grow over the years, still preserving its family atmosphere.
In 19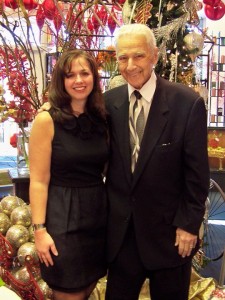 95, after 38 years, Karin's relocated to its present location in Vienna, Virginia.  At this point, Bill's daughter, Maris Angolia, joined the business and now serves as its President and CEO.
The physical size of the store has more than doubled, but most importantly, Karin's Florist has consistently made outstanding customer service our top priority.
We are the proud recipients of several awards, including Fairfax County Chamber of Commerce Outstanding Corporate Citizenship Award for small business, VaseOff! All Stars Challenge, Best of Fairfax, Best Florist in Northern Virginia, and Wedding Wire Couples Choice Award, and Steve Harvey named us the Best Florist in America.
We attribute that success to our award winning designers, the uniqueness of the store, our personnel, the premium quality flowers and gifts, and our loyal customers.  Our professional designers can take a customer's vision and make it come to life.  We have a great team, always striving to make sure that we not only meet but exceed our customer's expectations.
A lot has changed through the years, but one thing has remained the same: Karin's has kept its roots in Fairfax County, proudly serving the neighborhood it holds dear.
Community Participation
Karin's Florist is actively involved in the community and participates in many organizations.  They are proud members of the Vienna Business Association and Leadership Fairfax.
Maris Angolia, President, currently serves on the Inova Foundation Board. Mrs. Angolia has also served on the Northern Virginia Chamber of Commerce Board of Directors, Wolf Trap Foundation for the Performing Arts Associates Board and the 2015 World Police and Fire Games Board of Directors as well as the Inova Gala Executive Committee. Maris Angolia is a 2018 Washington Business Journal Women Who Means Business honoree and she was the 2018 Profiles in Success Award winner.
Charitable Donations
Karin's Gives Back is a charitable donation program that supports and promotes the good work of Northern Virginia, Washington DC and Maryland based charities.
About Karin's Florist
In addition to being selected as the "Best Florist in America" by Steve Harvey, Karin's Florist is one of the top 50 premier florists in the U.S.  We are open Monday through Friday, 9am – 5pm and Saturday, 10am – 5pm, with same-day delivery.  Sunday and late rush deliveries are available upon request.  Call (703) 592-0952 or visit us on Facebook or follow us on Instagram.
Karin's Florist provides beautiful fresh flower arrangements, gourmet gift baskets, wines & champagnes, green & flowering plants and unique gifts.  Whether your delivery is around the corner or around the world, we look forward to assisting you with your floral and gift giving needs.
 A Story About Family
Our Location
Visit our store at

527 Maple Avenue East, Vienna, VA 22180
Karin's Florist Delivery Locations:



Karin's Florist will send flowers anywhere in the country and around the world. Locally, we will deliver to the following locations:
Flower Delivery in Virginia (by Zip Code):
20120, 20124, 20151, 20152, 20164, 20165, 20166, 20121, 20146, 20147, 20148, 20149, 20152, 20170, 20171, 20172, 20175, 20176, 20190, 20191, 20192, 20193, 20194, 22003, 22039, 22015, 22027, 22030, 22031, 22032, 22033, 22041, 22042, 22043, 22044, 22046, 22066, 22101, 22102, 22124, 22150, 22151, 22152, 22153, 22180, 22181, 22182, 22201, 22202, 22203, 22204, 22205, 22207, 22301, 22302, 22303, 22304, 22305, 22306, 22307, 22308, 22309, 22310, 22311, 22312, 22314, 22315
Flower Delivery in Virginia (by City):
Annandale, Alexandria, Arlington, Ashburn, Burke, Centreville, Chantilly, Clifton, Crystal City, Dunn Loring, Dulles, Fairfax, Fairfax Station, Falls Church, Great Falls, Herndon, Kingstowne, Leesburg, McLean, Merrifield, Newington, Oak Hill, Oakton, Potomac Falls, Reston, Rosslyn, South Riding, Springfield, Sterling, Tysons Corner, Vienna.
Flower Delivery in Washington, DC (by Zip Code):
20001, 20002, 20003, 20004, 20005, 20006, 20007, 20008, 20009, 20010, 20011, 20012, 20015, 20016, 20017, 20018, 20019, 20020, 20024, 20032, 20036, 20037, 20052, 20317
Flower Delivery in Maryland (by Zip Code):
20810, 20811, 20813, 20814, 20815, 20816, 20817, 20824, 20825, 20827, 20889 , 20892, 20894, 20847, 20848, 20849, 20850, 20851, 20852, 20853, 20854, 20855, 20857, 20859
Flower Delivery in Maryland (by City):
Bethesda, Cabin John, Chevy Chase, Potomac, Rockville
Flower Delivery to Local Hospitals:



Karin's Florist has a close relationship with our local hospitals and we are ready to help you brighten someone's day by delivering flowers and gifts. We even worked with Inova Hospital to deliver over 14,000 floral bouquets to all of their doctors and staff. Below is a partial list of some of the local hospitals that we deliver to:
Bethesda Naval Medical Center
Children's National Medical
Georgetown Hospital
George Washington Hospital
Holy Cross Hospital
Howard University Hospital
Inova Alexandria Hospital
Inova Fairfax Hospital
Inova Fair Oaks Hospital
Inova Loudoun Hospital
Inova Mount Vernon Hospital
National Institute of Health (NIH)
Reston Hospital Center
Shady Grove Adventist Hospital
Sibley Memorial Hospital
Suburban Hospital
Virginia Hospital Center
Walter Reed Army Medical Center
Flower Delivery to Local Funeral Homes:



Karin's Florist will help you find the right way to express your feelings. Our skilled and compassionate staff will work directly with the funeral homes below to make sure that your gift is delivered timely and accurately.
Advent Funeral Services
Adams Green Funeral Home
Arlington Funeral Home
Arlington National Memorial
Capitol Funeral Service
Chinn Funeral Service
Collins Funeral Home
Colonial Funeral Home
Cunningham Funeral Home
Demaine Funeral Home
Devol Funeral Home
Everly Wheatley Funeral Home
Fairfax Memorial Funeral Home
Greene Funeral Home
Jefferson Funeral Chapel
King David Memorial
Metropolitan Funeral Service
Money & King Funeral Home
Murphy's Funeral Home – Arlington
Murphy's Funeral Home – Falls Church
National Funeral Home
Northern Virginia Funeral Service
Pearson's Funeral Home
Pumphrey Funeral Home
Flower Delivery To:
Florist Vienna VA, 

Florist McLean VA, 

Florist Oakton VA, 

Florist Herndon VA, 

Florist Great Falls VA, 

Florist Sterling VA, 

Florist Falls Church VA, 

Florist Ashburn VA, 

Florist Leesburg VA, 

Florist Fairfax VA, 

Florist Reston VA, 

Florist Dunn Loring VA, 

Florist Merrifield VA, 

Florist Tyson's Corner  VA, 

Florist Alexandria VA, 

Florist Arlington VA, 

Florist Bethesda MD, 

Florist Washington DC, 

Florist Rockville MD, 

Florist Potomac MD.