The following is the final part of a three part journey of Karin's Florist's Director of Special Events and Creative Director, Bryan Swann EMC.

I arrived in Brugge for the final part of this great jurney. How amazing to get to spend the next 10 days working alongside designers who were here to learn new things, discuss flowers and have fun designing new ideas!
Brugge is very old city in eastern Belgium filled with cobblestone streets, canals and chocolate shops.


We had twenty people from the United States, Canada and Mexico in our Class. We had a lot of fun, a few tears and lots of laughs over the next ten days. Here we are after we received our certificates for completing Part 2.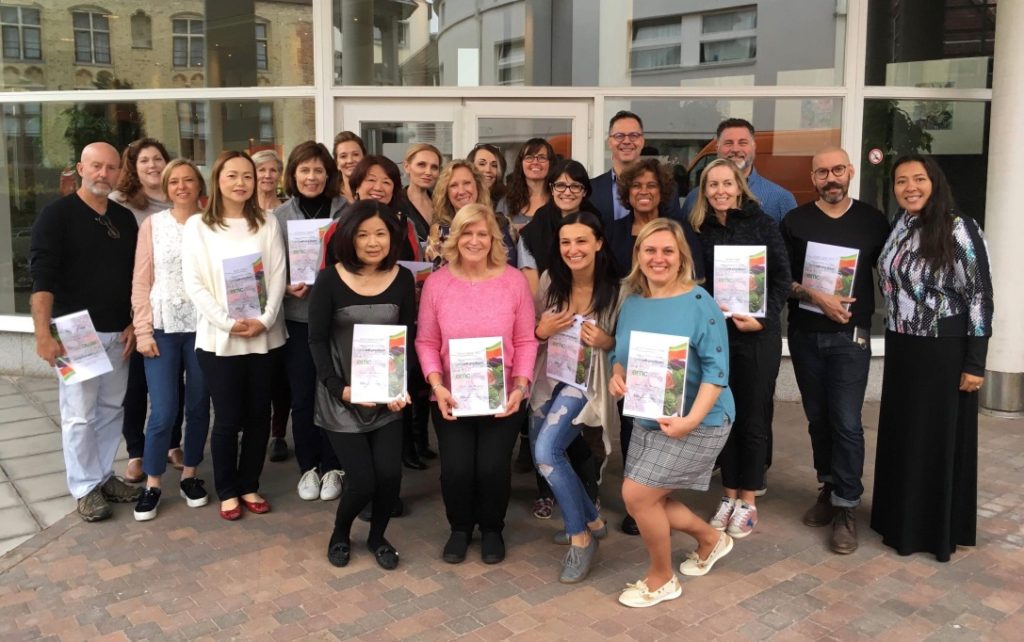 The first day we walked into the workroom filled with flowers, containers, materials, and possibilities.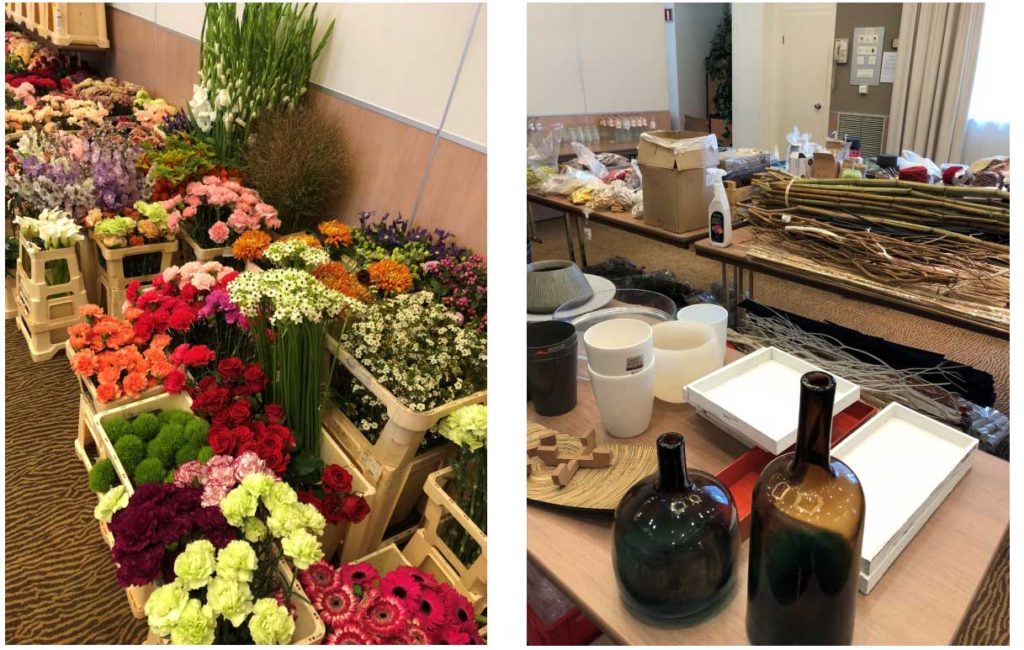 Before we could start with the flowers, we had our first exam. It was the dreaded Nomenclature Exam. I learned a lot of these terms in college more than a few years ago and it was exciting to see if I could retain all of the information. It was a bit challenging however, I was able to recall what I needed. Following the exam, we were to go on a canal tour of Brugge; however, Mother Nature did not cooperate and it rained all afternoon, so we explored the city on foot.
The next few days were full of lectures in the morning and hands on projects in the afternoon. Tomas lectured and demonstrated about the difference between a structure and a construction, how to create tension and gestalt, and how to interpret art. Gestalt is a German word meaning the total is greater than the sum of its parts.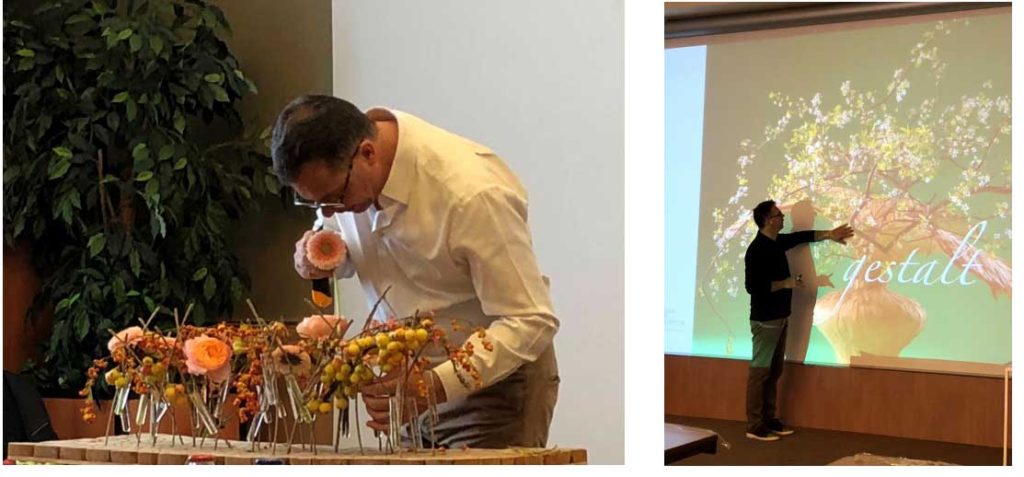 My Projects:
On the left, a construction with a natural flower support, in the middle, Gestalt of similarity and on the right an arrangement with one stem of flower.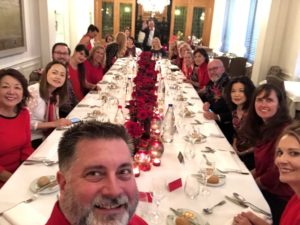 Day 4 ended with the Red Soiree. Everyone was encouraged to wear something red and we were bussed to a castle to celebrate the Passion that we all have as floral designers. Tomas and Christi had set a long table with red flowers and crabapples. We ate and drank and celebrated the journey we were on.
Day 5 started very, very early in the morning. We boarded a bus at 5:00 am, headed to the Louvre Museum in Paris. Our Mission was to select a piece of art to interpret as a floral design. It had to be a painting and could not be something surreal, other than that we had many, many choices.
After picking out our art pieces we were turned loose on the streets of Paris. Some of us went to see the Eifel Tower, while others went shopping and a few of us wondered the streets looking at the amazing sites. We all met up at the Atelier des Lumieres to view a new museum devoted to digital art. It was amazing and hard to describe. It was like you were immersed in the art.
After a long day we departed at sunset to make our way back to Brugge.

Day 6 and the morning of Day 7 were sent preparing for our final exams. We had a written Theory Test and several timed design tests. We would be given an allotment of time to execute our designs. The hand tied bouquet test was 15 minutes! We were allowed to prepare any materials that were not botanical beforehand and we could build any structures or constructions. We studied until the wee hours of the night and were in the workroom until they kicked us out.
Ever have one of those days were you sit down to take a test and forget everything? That was me on test day. I was certain I failed the test when we turned it in. (I recently got the scores back and I had nothing to worry about!)
Hand Tied Bouquet Test. We were given a selection of flowers to design a hand tied bouquet that had to stand on its own accord.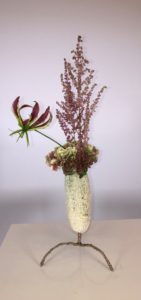 Surprise Package Test. We were given a scenario and had to design a floral arrangement for the client. In this case the client was the hotel we were staying and they wanted a small amenity to place in the bathroom. The bathroom was not big, so we had to think small. I found this great luffa, gave it legs and added a water source for the flowers.
Art Interpretation Test. I picked out Saint Sebastien, vers 1480 by Andrea Mantegna from the collection at the Louvre. I needed to examine the painting and explore the iconography, make a collage and design an arrangement that gave a representation of the painting. I think I will write another blog exploring this process in more detail. The collage, the painting and the design below.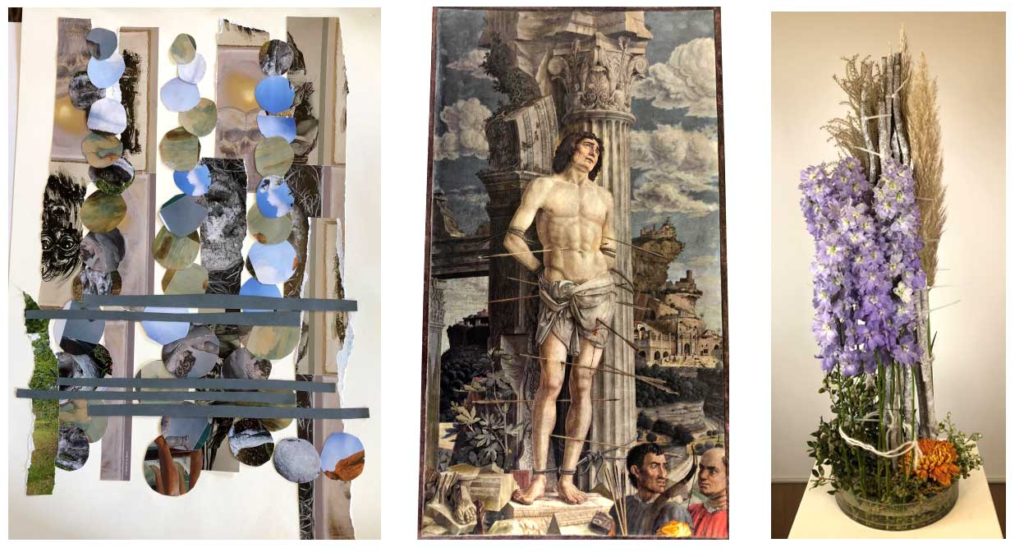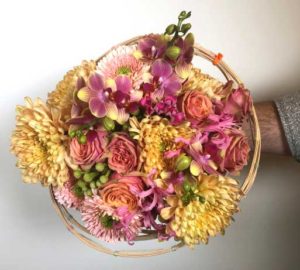 The Wedding Bouquet Test. I had taken a basket weaving class a few years ago and was inspired by baskets made from pine needles. I had some caning left over from another basket I had made so I decided to use the technique for pine needles and adapt it to the reed. I was able to construct this before I left the States. I then found this amazing combination of flowers that went with the basket.
Graduation Day! We all got dressed up to walk with our bouquets down the cobblestone streets to city hall for graduation. City Hall is one of the oldest city halls, located on Burg Square and opened in 1421. Once inside, we all gathered with the Magistrate in the Gothic Hall just before we all graduated.

We then went upstairs to receive our certificates.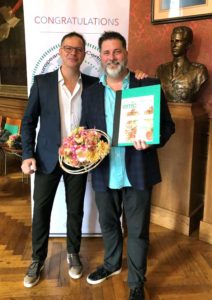 The EMC Program is an amazing experience and I want to thank you for allowing me to share this with you. I have always believed that when you stop learning, you stop living. This program allows the designers to grow, learn new techniques,to develop their own sense of style and to become true Floral Artists. I definitely achieved my goal of a New Perspective.