Funeral Flowers
Karin's Florist is honored to share in all of your life's important moments. And usually that means happy times like weddings, parties, prom, etc. However, Karin's Florist will also be there for you when it's time to celebrate the life of a loved one after they pass on.
Our compassionate sales team understands this can be a difficult time and we will guide you with patience and understanding. We also have a team of caring designers that take the time and effort to craft arrangements that exemplify respect, honor and love.
Cemetery Flowers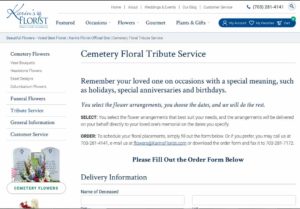 Karin's Florist also makes it easy to remember your loved one on occasions with a special meaning, such as birthdays, anniversaries and holidays through our new floral tribute service.
The floral tribute service makes it easy to do. Simply select the flower arrangements that best suit your needs, and they will be delivered on your behalf directly to your loved one's memorial on the dates you specify. To schedule your floral placements, you can either fill out the form on our website or call 703-281-4141 and talk to one of the staff to assist you with your selections.