Alex Ayers – Life of an Intern at Karin's Florist – Blog #7
This average day was just made a whole lot more interesting. Maris asked me if I wanted to participate in a short flower design class where everyone would make their own small arrangement. I jumped out of my seat and said yes! I had been wanting to try my hand at floral design. I was told that people have an intrinsic knack for designing or not, and I wanted to have it. I would probably use the skill sparsely, but my competitive nature kicked in, and you know what, anything worth doing is worth doing well.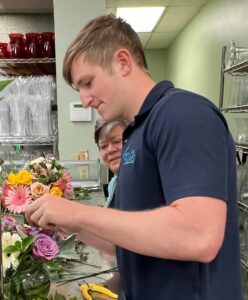 The class was created because Maris's young nephews were in town. They were very cute kids, and after a tour of the store, we set up at the designer tables ready for our class. Carol demonstrated the first step and I watched intently. Then it was our turn. I tried to place my initial foliage with sniper-like precision. While I was making errors and trying my hardest to get a passing score on this unofficial test, I was getting my butt kicked by two kids that couldn't have been older than 12. They were making quick work of the class, and their arrangements were done well. Meanwhile, my arrangement was struggling. I needed something to change, so I channeled my inner Rocky.
Feeling beaten down I got back up, and I staged as aggressive of a comeback as you can when you're in a floral arrangement class. I threw around the words like tertiary and complementary colors, (thank you eighth grade art class!) and in the end, I thought I did a good job. Some of the senior designers gave me some tips on how to tweak my arrangement for the better, and I felt happy. But since we all have different opinions, there will be a photo of my arrangement below and you can judge for yourself.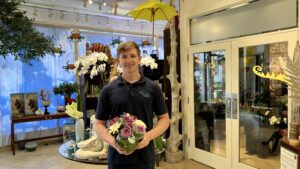 I was surprised at how much thought goes into an arrangement and the skill needed to execute your ideas. All summer the designers have made it look easy, so I thought it'd be a walk in the park. Now, I know why the job of a floral designer is so elusive. It's like getting into an ivy league college. You need many years of study and practice to even be considered. I don't think my performance warranted me entry, but at least now I can say I know one or two tricks of the trade.