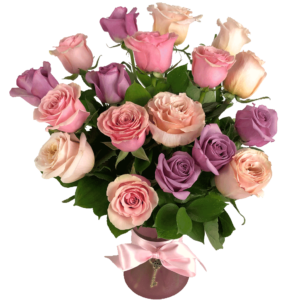 We had so much fun and had such a great response when we were asked to help promote the DVD and Blu-ray release of Disney's The Nutcracker and the Four Realms. By the way, you can still get our Key to Their Dreams Bouquet, the beautiful rose flower arrangement inspired by the movie. It even comes with a keepsake old fashioned brass key.
So this time when we were asked again to help celebrate the January 14, 2020 Blu-ray release of Disney's Maleficent: Mistress of Evil, we wanted to do something even bigger. But more on that in just a minute.
If you haven't seen the movie yet, the story of Disney's Maleficent: the Mistress of Evil continues when Maleficent travels to the castle to celebrate her goddaughter's upcoming wedding to Prince Phillip. Aurora begins to question the motives of her godmother as they are tested by Aurora's future mother-in-law, a conniving queen, who hatches a devious plot to destroy the land's fairies. Unexpected allies join forces to battle the queen and her powerful army. Will there be a happily ever after for Aurora? You'll have to get the DVD ……. or ……. stop by Karin's Florist for your chance to win the movie.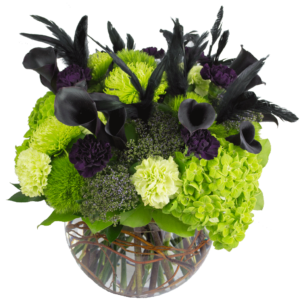 First we had to create a floral design that complemented Maleficent's personality, dark but with a soft side. So our world-renowned designers got together and created the Mistress of Evil Bouquet. Designed with wicked hydrangea (yes, that is really their name,), dark purple callas, dark purple carnations, spider mum, purple green dianthus, purple trichellium, and curly willow, and complemented with soft black feathers, the Mistress of Evil Bouquet is perfect for that mysterious person in your life. Plus, with every purchase of a Disney themed flower arrangement or other Disney item, be sure to ask for a free Disney pin. If you love the pin, it's yours to keep. But if you would rather have a different pin, Karin's Florist loves to trade Disney pins! Just stop by the store and ask to see our Disney Pin Trading Book.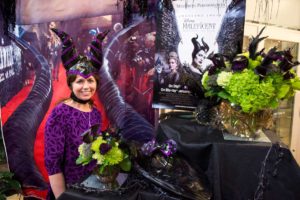 So now we wanted to create a magical display. We set up a corner of our showroom with a Maleficent red carpet backdrop complete with paparazzi! Along side is a wonderful Maleficent poster, Maleficent horns and of course, a small and large version of our lovely Mistress of Evil Bouquets. And for a limited time, you can come by Karin's Florist and take a selfie in front of the display. You can even wear the replica of Maleficent's horns or just the Mickey ears version. Plus, while supplies last, you will be given swag from the movie and be entered to win a digital download of Disney's Maleficent: the Mistress of Evil.
Enter to win by posting your photo on our Facebook and/or Instagram pages.  Each photo will receive 3 entries.  If you don't get a chance to get by the store, please visit our Facebook and/or Instagram pages and let us know who your favorite villain is.  Each "villain" comment will receive one entry.
Our grand prize winner will win a digital download of the movie plus they will take home the Mistress of Evil Bouquet (our local VA/DC/MD delivery area only.)
Bonus: If you have kids or if you are young at heart, you may want to download the Maleficent Activity Packet. It contains hours of fun games, puzzles, a coloring page, arts and crafts and much more.