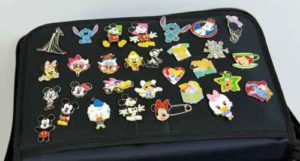 Karin's Florist is thrilled to be a Disney Pin Trading location! Come in to our shop to collect and trade Disney pins to celebrate our Magic of Mickey floral collection. Disney pin trading is an exciting and interactive experience where our customers can trade, FOR FREE, Disney pins with our staff. It's also a fun way to help promote the new Karin's Florist Disney flower line "The Magic of Mickey". We also offer the option to purchase pins at Karin's Florist to start your collection or if you don't have any pins to trade. Or, when you order a flower arrangement from our Magic of Mickey collection it comes with a free Disney pin! New pins will be added every week so come into the store on a regular basis to check out the selection.
Disney pin trading is the trading of collectible pins featuring Disney characters, attractions, icons and events.
Disney Pin Trading is a hobby practiced all over the world and promoted by Disney. Disney offers collectible Disney pins in each of its parks and resorts. Thousands of unique pins have been created over the years. The pins can cost anywhere from $8 to more than $100, depending on its design and rarity. Some pins have appreciated well on the secondary market and have reached prices of over $2000 at venues such as eBay.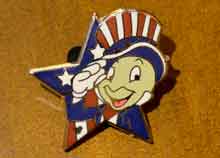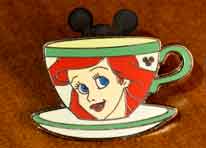 There is pin for every occasion. Since it is the Fourth of July weekend, here is a patriotic pin of Jiminy Cricket. Also, last night we went to see the Disney production of  The Little Mermaid at Wolftrap. It was fantastic! So here is one of many pins of Ariel.
If you want to know more, here is a great blog post on everything you need to know about Disney pin trading: http://www.disneytouristblog.com/pin-trading/.
Got more questions? Come into Karin's Florist to learn more about our Disney Pin Trading program!