What can we say….on October 26, 2016 all of our dreams came true!
We turned the front parking lot of Karin's Florist into a scene from a Disney fairy tale to celebrate our Diamond Anniversary – 60 years in business! In case you missed it.. or wanted to relive the magic all over again…here's a recap of one of the greatest days in Karin's Florist history : A Cinderella Dream Celebration!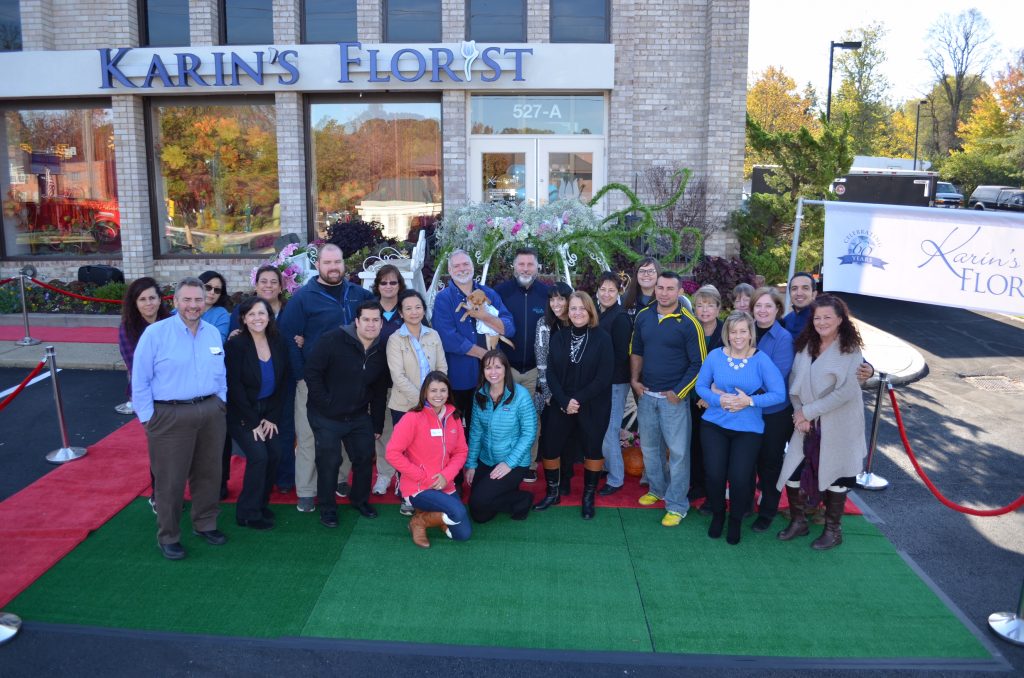 In short, to celebrate our anniversary, Karin's Florist threw a huge party where our neighbors could meet and greet Cinderella and Prince Charming on the red carpet. Of course in true Karin's Florist style, we decorated a real-life Cinderella carriage with flowers which carried the Royal Couple down Maple Avenue during the 70th Annual Vienna Halloween Parade. A special little girl, Princess Abigail, was also chosen via a social media contest to live the life of a princess for a day, and ride in the carriage with Cinderella and Prince Charming. For the grownups, we are featuring a Princess Diamond Giveaway, diamond earrings from Princess Jewelers as well!
WHY WE DID IT:
First of all, Karin's Florist has been a part of this community for 60 years. We started this flower shop back in 1956 and it's still a family owned business today, that's certainly something to celebrate! Successful small businesses are harder and harder to find nowadays, and we cherish every member of our staff over the years that has kept Karin's Florist alive and well. We wanted to do something special that would show how much we appreciate everyone's hard work!
Second, Karin's Florist wouldn't be what it is today if it wasn't for our supportive customers and community. Some of our customers have been coming to us for decades, and their parents bought flowers from us before that! Karin's also makes it a priority to give back to many of our local charities and organizations, with our Karin's Gives Back program. So we wanted to do something that could be etched into the hearts and minds of everyone forever! And what better day to share our 60th Anniversary and beautiful Cinderella Carriage than at the Annual Vienna Halloween Parade, also celebrating 70 years that same night.
Lastly, Karin's Florist is a huge fan of Disney! We recently launched a memorable and adorable Disney line that we know will have everybody talking! It just made so much sense to throw a Disney Princess themed party to celebrate our Diamond Anniversary!
THE DAY OF:
It took hours of planning and set up to make it all come together, but we couldn't be more proud of the results. As you all know, an intricate and important part of the whole Cinderella Dream Celebration event centered around our horse-drawn, flower-adorned Cinderella Carriage, which was graciously provided by Shenandoah Carriage Company. (their Cinderella Carriage is PERFECT for a future bride and groom!!) Our talented floral designers were excited to take on the challenge of draping this ornate structure in hundred of lilies, roses, hydrangeas, dahlias, orchids and carnations in all 'princess colors'. The design process began in the very early morning hours of our 60th Anniversary Celebration day…
Since we were up early, our friends from Great Day Washington showed up to do an amazing segment on the 70th Anniversary of the Vienna Halloween Parade! Yes, the parade, Karin's Florist and the Cuppett Performing Arts Center were all celebrating anniversaries on the same day. Special thanks to the fantastic dancers of Cuppett Performing Arts Center and Mayor of Vienna Laurie DiRocco for joining us in the cold! Here's a link to one of the segments:
http://www.wusa9.com/entertainment/television/programs/great-day-washington/halloween-parade-features-cinderella-carriage/342232536
Also, a special thanks to NBC 4 Washington who came out and did a story on our Cinderella Carriage and 60th Anniversary!
http://www.nbcwashington.com/news/local/Cinderella_-Your-Parade-Chariot-Awaits_Washington-DC-398769971.html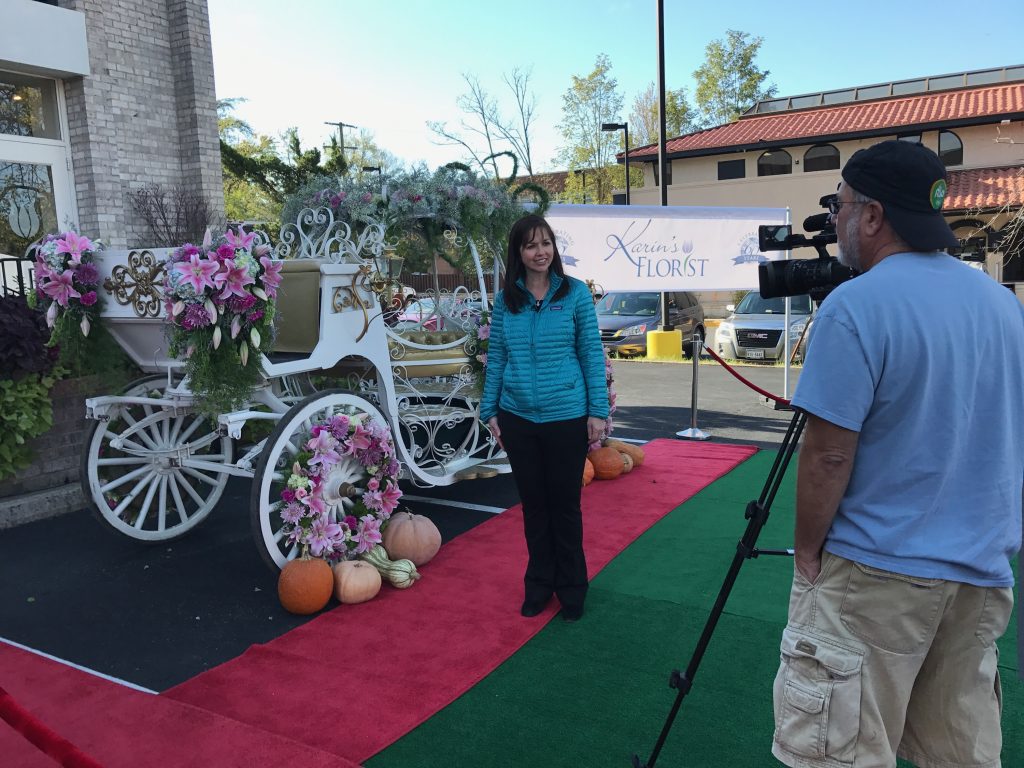 We even got a surprise visit from our favorite UPS driver RENNY on his very last day on the job!!! Renny is a beloved delivery man here in Vienna for decades and was recently launched into semi stardom when the local TV stations covered his retirement route that was decorated by all the neighbors. We will miss you Renny! Thanks for celebrating 60 years with us!!
THE CELEBRATION:
The guests began to arrive around 3:30 pm for a royal red carpet celebration and a chance to meet and take pictures with a real life Cinderella and Prince Charming! The looks on these little girls and boys faces when they saw the Royal Couple in front of their Cinderella Carriage was just priceless….hey, even the adults were mesmerized by how magical everything turned out outside. Cinderella and Prince Charming made their grand entrance and our Little Princess winner, Abigail was also announced to an overjoyed and enthusiastic crowd. (Photos by Lux Photography)
Inside….the party continued with face painting and fairy kisses from Karin's Florist mascot, Lexi! She was dressed in her ice blue princess dress and everyone just loved her!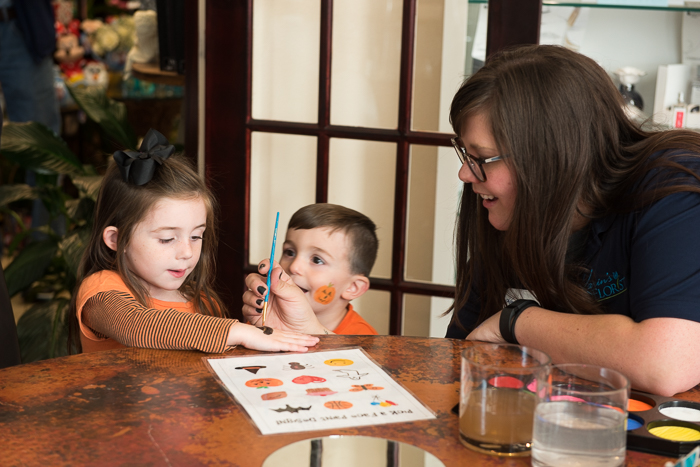 Once the clock struck five, it was time to get the horses, Ozzie and Colonel all dolled up. Our designers draped their necks in fresh flowers and intertwined some in their tails. They loved all the special attention!
The horses were then hooked up to the carriage and a handsome driver in his suit and top hat took the reigns. It was officially time for Cinderella, Prince Charming and Little Princess Abigail to ride off into the sunset. The click and clack of horse hooves kept our hearts and minds a flutter as they headed down the road…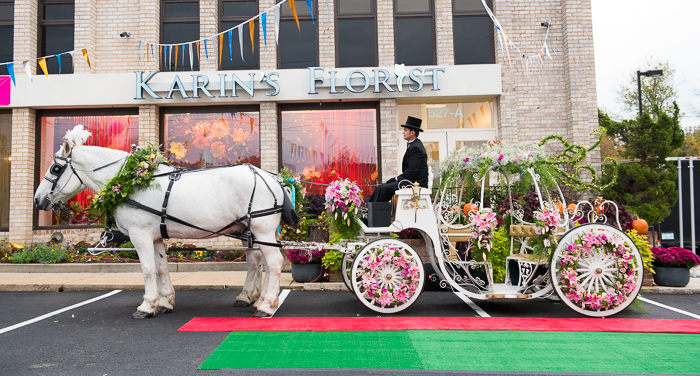 It's hard to say whether the Cinderella Carriage looked better during the day or night, but once those decorative lights around the carriage went on, a whole new sensation of magic was released into the night. You could hear the oohs and ahhs of parade-goers as the carriage rode by….a definite highlight of the 70th Annual Vienna Halloween Parade!!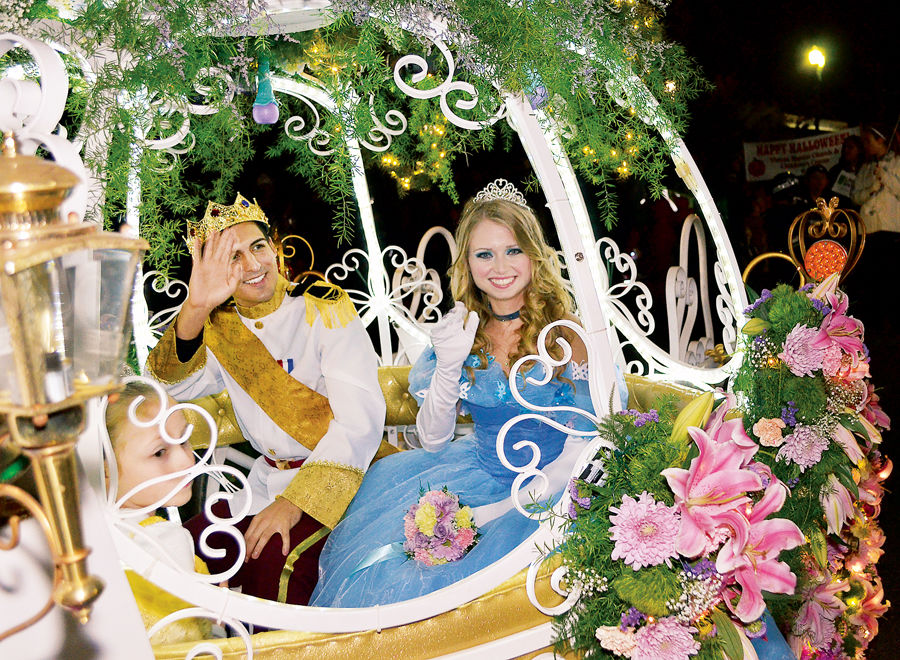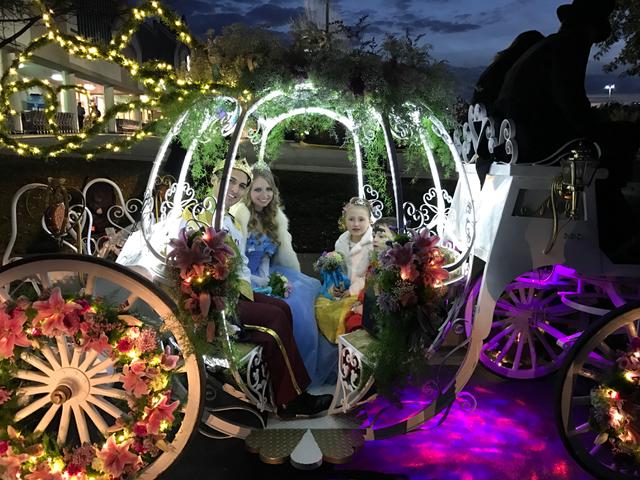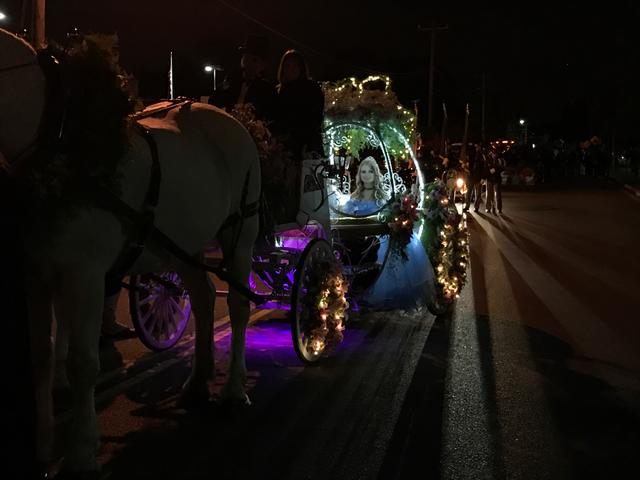 Check out some links to other great pictures and articles:
http://www.insidenova.com/headlines/photos-scenes-from-the-vienna-halloween-parade/collection_fa76e126-9ea0-11e6-a127-2bf8ee5489f5.html
http://www.connectionnewspapers.com/news/2016/oct/31/vienna-halloween-parade-draws-thousands-spectators/