Here at Karin's Florist, pets are like family. Many members of our staff have dogs and/or cats who are dearly loved and Karin's Florist is also proud to have helped raise thousands of dollars over the years for local animal shelters and organizations. We even have our very own shop dog/mascot, Lexi…who helps keep us sane on some very busy days. Lexi, a chihuahua mix, came into our lives when our head designer adopted her in January. He brought her in to meet the staff… and we couldn't help but fall in love. She's been hanging out at the shop every day since. I mean, who couldn't smile when they see this face?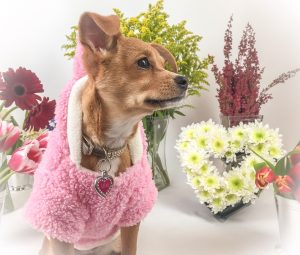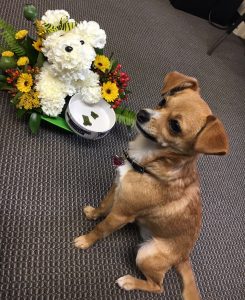 In honor of our love for pets (and we've officially entered the 'dog days of summer') Karin's Florist is launching our very first Pet Lovers Line! Our fun and adorable collection is sure to please you and your pet! And our designers have a lot of fun designing unique arrangements in keepsake containers that please both humans and animals. And the best part? A portion of the proceeds (5%) from our Pet Line products will be donated to the Friends of the Fairfax County Animal Shelter
INTRODUCING KARIN'S PET LOVERS LINE: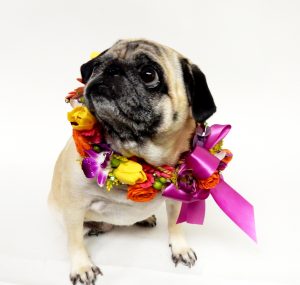 Meet Precious the Pug (pictured above). She is the fur-child of our lovely coworker, Kat. Precious is modeling one of our designed-by-hand floral dog collars made with real flowers! (HOW CUTE!!<3)  After winning the Karin's Florist dog contest last year, Precious has been anxiously awaiting her own product line.  She can now say that she is famous and that other dogs want to be just like her!  Our collars can fit both dogs and cats of any size. Colors may be specified, but not types of flowers.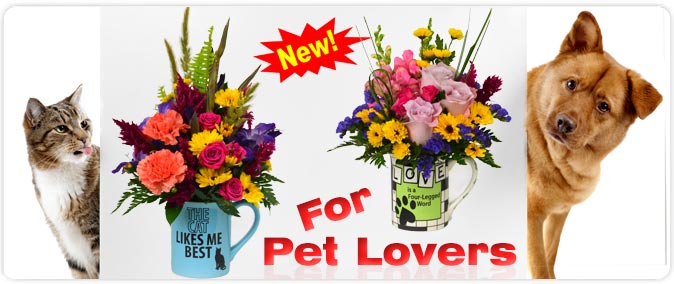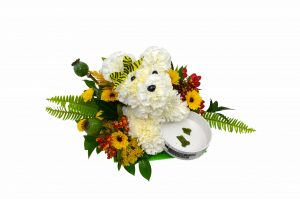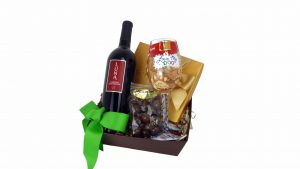 We have so many more pet lovers products to show you! Stop by the shop or visit https://www.karinsflorist.com/