At Karin's Florist, we love all things Disney as I'm sure you can tell from our great selection of Disney character flower arrangements and gifts. So as you can imagine we were more than happy when we were asked to help promote the DVD and Blu-ray release of The Nutcracker and the Four Realms.
If you haven't seen the movie yet, it's about a girl, Clara, who is searching for a magical, one-of-a-kind key to unlock a box that contains a priceless gift. She embarks on a quest into a mysterious world which has four different realms: a snowflakes realm, flowers realm (our personal favorite), sweets realm, and the challenging realm where the key is. As she undertakes her journey she meets different characters including Phillip who is a soldier and a gang of mice. Will Clara be able to gain the key to receive her late mother's special gift? You'll have to get the DVD…….or…….stop by Karin's Florist for your chance to win the movie.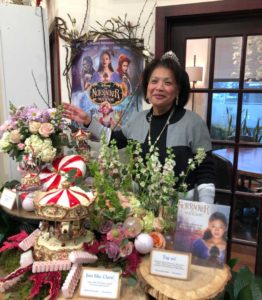 After watching the movie, and we loved it, we knew exactly why we were asked to be involved. Since we are experts in the "Land of Flowers" and know a thing or two in the "Land of Sweets" our magical designers set out to create a display worthy of movie. And for a limited time, you can come by Karin's Florist and take a selfie in front of the display. You can wear a replica of the crown Clara wore in the movie and wear the sought after key made into a necklace. Plus, while supplies last, you will be given swag from the movie and be entered to win a copy of The Nutcracker and the Four Realms.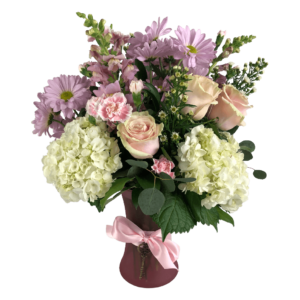 But wait, there's more. In honor of the movie, we created The Nutcracker and the Four Realms Clara's Key Bouquet. You can unlock the wonder of Disney's The Nutcracker and the Four Realms with this beautiful floral bouquet. Using soft pastel colors similar to the Land of Flowers, The Nutcracker and the Four Realms Clara's Key Bouquet is designed with roses, hydrangea, and daisies. A special gift inspired by Clara, a golden keepsake key is tied around the vase with pink ribbon.
But there is even more. With every purchase of a Disney themed flower arrangement or other Disney items, you will receive a free Disney pin. If you love the pin, it's yours to keep. But if you would rather have a different pin, Karin's Florist loves to trade Disney pins! The picture below is only one page of many. And if you love Star Wars, you must come in an see our great Star Wars pin collection. Come in to our shop to collect and trade Disney pins to celebrate our Magic of Mickey floral collection. Disney pin trading is an exciting and interactive experience where our customers can trade, FOR FREE, Disney pins with our staff.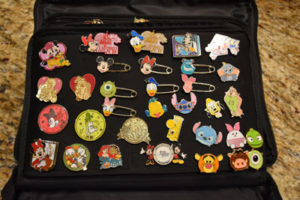 We also offer the option to purchase pins at Karin's Florist to start your collection or if you don't have any pins to trade. New pins will be added every week so come into the store on a regular basis to check out the selection.