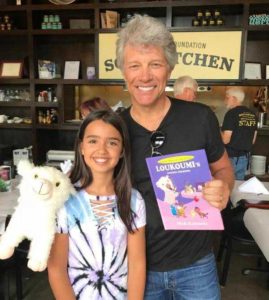 When 9 year old Melina Kokkalas grows up, she wants to be a chef and own her own restaurant for people in need – people that might not be able to afford a nutritious meal…and that is exactly what the JBJ Soul Kitchen does! JBJ Soul Kitchen is a non-profit Community Restaurant, run by The Jon Bon Jovi Soul Foundation, that serves paying and in need customers (www.JBJSoulkitchen.org). Special thanks to everyone at this amazing place for cooking up the perfect Dream Day for our latest national contest winner.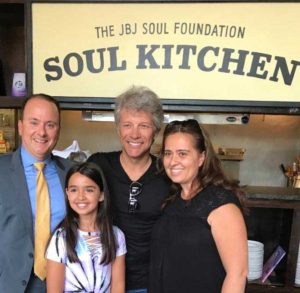 Melina assisted the restaurant with pre-dinner preparations, and helped pick organic vegetables from the lush garden on premises. She also enjoyed a delicious three course dinner with her Mom and Loukoumi Foundation President Nick Katsoris, and was treated to a very special visit from Jon Bon Jovi himself. The Grammy Award winning rock star and renowned philanthropist spoke with Melina about her Dream Day, offering her encouraging words followed by photos.
In fact, Melina is so inspired that she and the Loukoumi Foundation now want to help raise funds for the JBJ Soul Kitchen. Stay tuned for more details. For more on the Loukoumi Make A Difference Foundation and the Dream Day Contest visit: www.LoukoumiFoundation.org and view our 10 Year Anniversary Dream Day Video – As Loukoumi says, "Believe in yourself and Dreams Come True!"
If you would like a Loukoumi autographed book or a Loukoumi gift basket, Karin's florist has some on this website and even more in the store.