Ethel Who? Living on the East Coast you would be forgiven to not know one of the top chocolatiers on the West Coast, Ethel M. Though you may not know Ethel M Chocolate, you most currently know her big brother, headquartered right here in Tysons Corner, M&M Mars.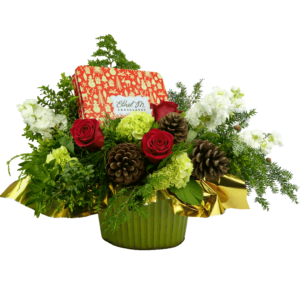 Since flowers and chocolate go naturally together, Karin's Florist wanted to be one of the first companies on the East Coast to carry the high end chocolate. You heard right, Karin's Florist carries Ethel M Chocolate.
For the holidays, Karin's Florist is offering exclusive Ethel M Chocolates & Holiday Flower bouquets.   These are available for a limited time only for delivery in the Northern Virginia, Washington DC and Suburban Maryland area, while supplies last.
At our 10th Annual Open house, coming up on November 15th, 3pm – 7pm, we invite you to come by, enjoy the evening, see our exclusive Ethel M & holiday flower arrangements, & taste the delicious Ethel M chocolates!  Details below – please RSVP to RSVP@karinsflorist.com.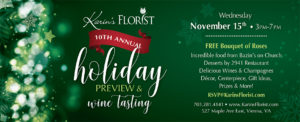 You can buy Ethel M in our store or on our website.    It's the perfect gift for the holidays (or for yourself!)
Fun Facts about Ethel M and Chocolate:
Forrest Mars Sr. created Ethel M Chocolates in his mother's honor. Using her timeless recipes, Forrest's vision of sharing fresh-crafted, small-batch, premium chocolates was born.
Ethel M Chocolates are still made in small batches with no preservatives.
Just the smell of chocolate increases theta brain waves, which triggers relaxation.
Americans buy more than 58 million pounds of chocolate – just on Valentine's Day.