Actually, yes.  Even before some people have packed away their Christmas decorations for this year, we spent the past week in Atlanta looking at all the new products being offered for next Christmas. In addition, we were looking for exciting new products to bring to you throughout the year!
One of the new features of our new website is the ability for you to customize your purchase. So we wanted to be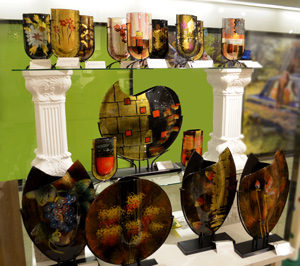 able to offer you the ability to upgrade the normal glass vase to a beautiful vase they will want to keep forever. And we found some really beautiful vases you are going to love. One line we are very excited about is called art glass. Clear and colored glass is fused together in the artist's design, and then hand-painted accent details are skillfully and artistically applied. Photos just don't do it justice. We'll let you know when they arrive so you can come into the shop to see how the light plays off of the designs.
This year, we are going to take the Karin's Florist pet line to a whole new level. Do you know what a bush baby is? I didn't, but I love them now. We'll tell you more about them soon.
We l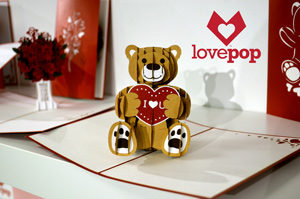 ooked at every category in detail, even greeting cards. In addition to our regular line of greeting cards, Karin's Florist will now be offering two new lines of very unique greeting cards, Love Pop (as seen on the Shark Tank) and Quilling Cards, truly a piece of art – we will even have the frames that you can put this beautiful card into, making it a gift that will last.
There is so much more to tell you, but our designers have asked us to wait until they can put their touch on the new products. You are going to love what they come up with just for you. Keep checking back, and we will let you know when each product arrives and be sure to mark your calendars now for our annual Open House on Wednesday, November 15th, where we will unveil all the awesome holiday gifts for the 2017 season.   Until then, if there is anything you would like us to consider carrying or designing for you, please let us know.