If you are a regular customer of Karin's Florist, then you undoubtedly seen some of Romero Britto's work. For over five years now, Karin's Florist has been designing beautiful floral designs inside of beautiful artwork designed by Romero Britto.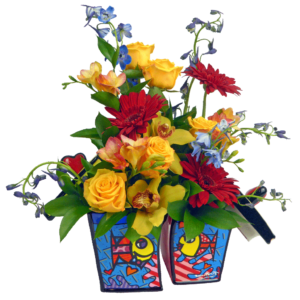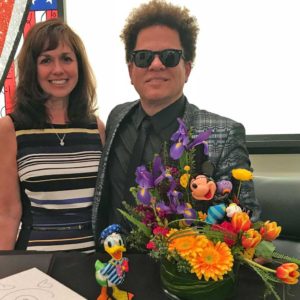 This weekend impressive collection by world-renowned artist Romero Britto will be on exhibition and available for acquisition at both Wentworth Galleries in the DC Metro. The exhibition presents Saturday, April 21, 2018 with live Artist Appearances at both Wentworth Gallery Metro DC locations: Westfield Montgomery Mall – 7101 Democracy Blvd. in Bethesda – from Noon-3pm. RSVP to montgomery@wentworthgallery.com or call 301-365-3270. Later that evening, Britto will be at Tysons Galleria -1807 U. International Drive in McLean – from 6:00 pm-9:00 pm. RSVP to tysons@wentworthgallery.com or call 703-883-0111. The galleries will host this public exhibition, which is complimentary and RSVP's are strongly suggested. Visit www.wentworthgallery.com for more info.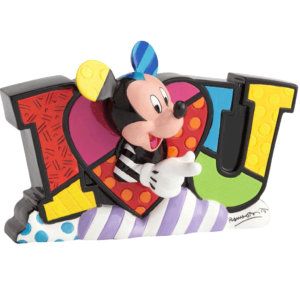 We enjoy seeing and stand by Romero's Best Buddies International, a program whose mission is to gather volunteers and pair them with people with developmental disabilities in order to engage in one-on-one friendships. The relationships bring camaraderie between the friends and helps those with disabilities learn about leadership and find employment.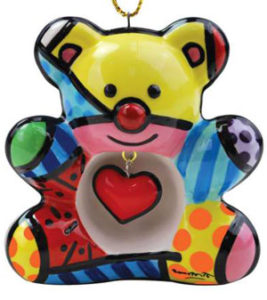 In coalition with Best Buddies, Britto has created artwork commissioned by the organization on separate occasions, with the proceeds going to the cause. The most popular of Britto's contributions to Best Buddies International, though, have been his sculptures, most notably the Best Buddies Friendship Bear. The 12-foot tall, 4,000-pound behemoth sits outside of the O2 Arena in Friedrichshain-Kreuzberg, Germany, and honors those with developmental disabilities. Britto is dedicated to this cause because he understands what it's like to have disadvantages in life, and wants to give the younger generation a support system.
Along with Best Buddies, Britto has donated time, art and resources to more than 250 charitable organizations, including the Prince's Trust and St. Jude's Children's Research Hospital.