In Mythology, the phoenix rises as a symbol of hope and renewal. What better way to celebrate moving forward from these unprecedented times than with the natural beauty of flowers!
Karin's Florist is proud to be part of the AIFD American Institute of Floral Designers Phoenix Rising Floral Art Exhibition in honor of the late AIFD president-elect and our General Manager, David Shover AIFD. From July 18-24, 2021, you are invited to participate in A Virtual Floral Art Exhibition in celebration of a life well lived and to endow the David Shover AIFD Fund. Once the David Shover AIFD Fund reaches endowment, educational scholarships will be awarded to add to "A Lifetime of Learning" to encourage floral design for the next generation.
This expansive project will honor David and increase awareness of floral design as an art form.
Check our blog, Facebook or Instagram pages from July 18th – July 24th to see photos of the exhibits that our local extremely talented designers have put together.
If you are in Vienna on Sunday July 11th, after noon,  be sure to see the live floral exhibits on display at Vienna Inn, Anita's New Mexican Restaurant, Clarity Vienna, Bazin's on Church and Karin's Florist. There will be an additional location to be announced at a later date! But hurry, these live floral exhibits will only be up for 24 hours (due to the heat, earlier is better!!)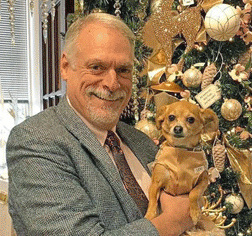 David was a mentor, teacher, colleague and friend – he chose to inspire rather than to control. His kindness, sense of humor, laughter and welcoming smile accompanied his incredible talent in countless opportunities with students most willing to learn.
His leadership in AIFD contributed to countless projects. His tenure on the AIFD National Board resulted in serving as President-elect of the Institute. Had circumstances been different and David had not passed away from cancer, David would have completed his term as AIFD President in July, 2021.
May the many hands that create these exhibits bring awareness of floral design as an art form to the world as we take a moment to remember David Shover AIFD.
For more information about this nationwide initiative, visit: www.aifdfoundation.org/phoenixrising.