Alex Ayers – Life of an Intern at Karin's Florist – Blog #5
I had a great view and a comfortable seat; there was nothing more I could ask for. I was riding shotgun with one of the Florist's most experienced delivery drivers, Andreas. It felt great to be out and about, and like a field trip in Middle School, I was excited to see where we would end up.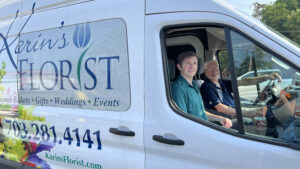 Our first stop was a skyscraper in Tysons. As Andreas drove up to the front entrance, I readied myself for my first delivery. I tensed up, but Andreas kept driving. In my head I thought, wow, why is he parking so far away? We kept moving and putted around to the back of the building. Far from the front I still didn't put the pieces together. At least I'll get my steps in, I said to myself. However, everything clicked when Andreas said, "It was hard for me to find the loading dock when I first started." Feeling naive I realized my error. He later explained to me that with large buildings you deliver an arrangement via the loading dock. Earlier, I had felt confident I knew most of the ins and outs of the florist business. This experience reminded me how much more I have to learn. I saw that things that might seem obvious aren't always like that in reality.
We delivered the flowers to the top floor of the skyscraper, and the view was spectacular. The change of perspective was enlightening. I could have looked over the little people and small places for hours. As the time ticked down though, we returned to our white Karin's Florist chariot to complete more deliveries.
As we checked more and more stops off our list, I got to know Andreas. He is a bubbly, seasoned gentleman that has endless stories about the deliveries he's completed in his twenty-plus years of service to Karin's. Getting to know him has been a highlight of my time here.
As the day moved forward, we checked off our deliveries without much headache. The pace was relaxing and, being used to a long commute into school, I didn't mind being in the car.
It was enjoyable getting to know some of the customers and seeing where our arrangements ended up. From a business perspective, it was also interesting to see all the work and people it takes to transform flowers into an arrangement and then getting that product to the customer. It has given me a greater insight into how the logistics of a business work, and now whenever I hear the pandemic buzzword, "supply chain", I have a better mental picture of what that actually means.
To sum up the day, I'd say it was fantastic. It was a sunny day with a clear blue sky, and there is not much else I could have asked for. Not only did I get to learn about business, but I was able to make a connection with a wonderful person as well. I'm grateful that I get to learn more and more about how Karin's runs, and that the people helping me along in this quest are so exceptional.