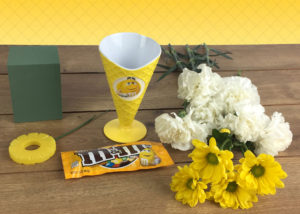 If you're looking for a fun project to do with your family, try our m&m ice cream cone flower arranging challenge. Stop by Karin's Florist to pick up all the supplies you will need for this family fun project. Start by laying out all your supplies on the table and follow these easy steps.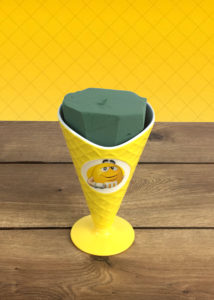 Step One:
Go to the sink and soak the green block of oasis foam in water and put it inside the m&m waffle cone cup.
Step Two:
With parent supervision, cut each stem to be three inches long. Hot Tip: It is best if you cut the stem at an angle to let more water flow into the stem.
Step Three:
Push your cut flowers one at a time into the green oasis until all the flowers are in the cone.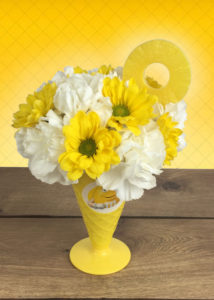 Step Four:
Add the yellow pineapple piece to your arrangement.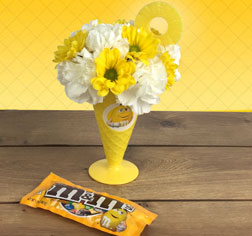 Step Five:
Sit back, open the bag of m&ms and enjoy your beautiful flower arrangement that you made! Congratulations!
Now post a picture on social media to show the world what you created and be sure to tag #KarinsFlorist so we can see it too! Who knows, someday you may be a flower designer at Karin's Florist!